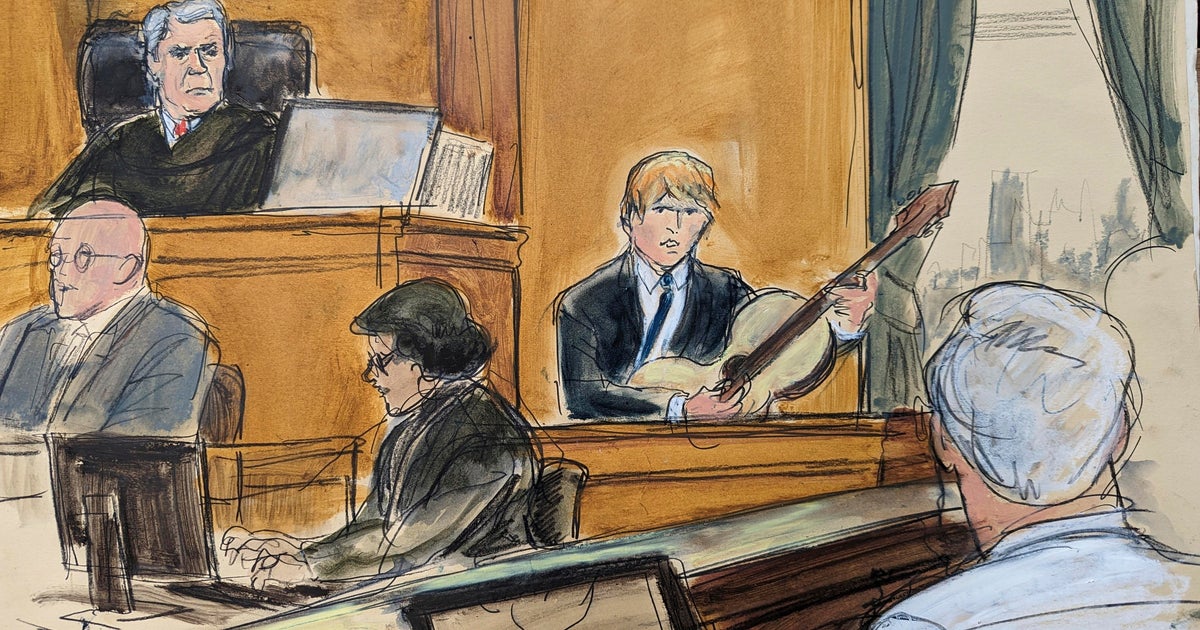 Ed Sheeran performs Nina Simone, Van Morrison songs from witness stand at copyright trial
Ed Sheeran mentioned Monday he is getting encouragement throughout his copyright trial from different performers who additionally fear that they will be sued as he battles claims that he stole materials from Marvin Gaye's "Let's Get It On" to make a brand new tune a decade in the past.
The British singer provided a spirited protection and plenty of singing throughout a second day on the witness stand after he was known as by his lawyer to reply questions at a trial at which he's accused of infringing the copyrights of the 1973 soul traditional Gaye created with fellow songwriter Ed Townsend. 
From the witness stand, Sheeran used his guitar to carry out a "mashup" of acoustic renditions of songs by different artists, together with Nina Simone, Bill Withers, Blackstreet and Van Morrison, in addition to a few of his personal. The demonstration supposed to indicate how Sheeran can simply transition between his music and theirs.
Sheeran mentioned he is heard from different singers because the trial started final week as a result of they share his worries about litigation ensuing from their songwriting. He did not establish any of them, however mentioned they're cheering him on — grateful that he is standing up towards what all songwriters view as a risk to their work.
"When you write songs, any person comes after you," Sheeran mentioned.
The trial, now in its second week, stems from a lawsuit filed by Townsend's heirs a number of years in the past, which seeks unspecified damages. Sheeran received a separate however comparable lawsuit final yr over his 2017 hit "Shape of You." After that victory, Sheeran took to Instagram to debate authorized claims he mentioned "had been made with the concept a settlement might be cheaper than taking it to court docket, even when there is no foundation for the declare."
"It's actually damaging to the songwriting business," Sheeran mentioned on the time. "There's solely so many notes and only a few chords utilized in pop music."
During a gap assertion final week, Townsend legal professional Ben Crump mentioned a Zurich live performance clip wherein Sheeran might be heard segueing on stage between "Let's Get It On" and the alleged offending track, "Thinking Out Loud," amounted to "smoking gun" proof that Sheeran was violating copyrights.
Sheeran's legal professional, Ilene Farkas, countered Crump's declare by offering the jury with a mini-concert Monday from her shopper, who cheerfully picked up a guitar from behind his witness chair at any time when she requested him to show how he may swap from his track to any person else's and again once more in a follow generally known as "mashups."
He mentioned he used the mashups to "spice it up a bit" throughout live shows, typically selecting songs that utilized comparable chords.
"If it is a love track, you may mash it up with one other love track," Sheeran mentioned, suggesting that Elvis Presley's model of "Can't Help Falling in Love" or the Whitney Houston rendition of "I Will Always Love You," written by Dolly Parton, would mash nicely with "Thinking Out Loud."
At one level, Farkas requested her shopper if he copied something from "Let's Get It On" when he wrote his track.
"No," he mentioned.
Sheeran expressed his admiration for Van Morrison, calling the Northern Irish singer "probably the most necessary influences in my life."
He mentioned his file label even referred to "Thinking Out Loud" as "the Van Morrison track."
Sheeran's good humor all however vanished when he confronted cross examination as legal professional Patrick Frank requested him about testimony from an skilled witness.
"If I might be sincere, I feel what he is doing right here is prison," the singer mentioned.
Sheeran did not cover how irritating he discovered it that his lifetime of music had landed him in a witness chair.
Sheeran mentioned he could not imagine that any person would take heed to certainly one of his songs after which "diminish it by saying I stole it."
He added: "I discover it actually insulting."